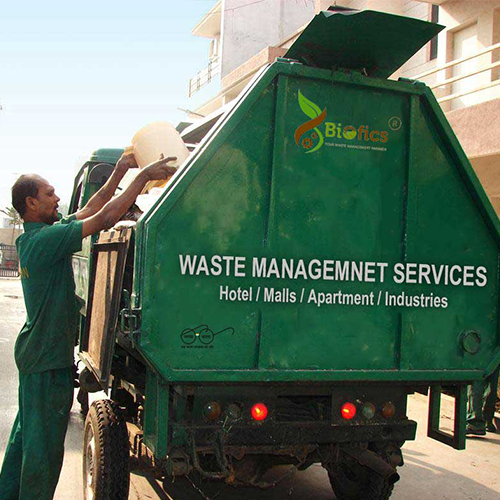 Zero Waste Management Service Provider
Biofics Pvt. Ltd.
Biofics is the most proficient Zero Waste Management Service Provider in Surat. Our waste management services offer a comprehensive solution for efficient and sustainable waste disposal. We begin by providing waste pickup directly from the source, ensuring a seamless and convenient process for our clients. Once collected, our team focuses on spot and secondary (deep) segregation of waste, effectively sorting and categorizing different types of waste to maximize recycling and minimize landfill waste.
We are the most Professional Zero Waste Management Service Provider in Gujarat. This efficient way of segregation process allows us to extract the maximum value from the waste stream. Our waste management services also emphasize real-time waste data reporting and data analysis of carbon footprint. By continuously monitoring and analyzing waste generation and its environmental impact, we provide valuable insights that enable our clients to make informed decisions and implement targeted strategies to reduce their carbon footprint.

Consider us for optimal Zero Waste Management Service in India. Another important aspect of our zero waste management service is recycling. This involves collecting and processing materials that would otherwise be sent to landfills or incinerators. We carry out recycling through curbside collection programs, drop-off centres, or industrial recycling facilities. Our company have made a smart move by investing in technologies that allow easy recycling of materials that are traditionally difficult to recycle, such as data maintenance for Swachh survekshan and Carbon credits calculation. We are at a level of Pan-India service.

Our Products
We are known Biogas Plant Manufacturers in Surat offering a quality range of Kitchen Waste Biogas Plant, OWC Machine, Composting Machine, Bio CNG Plant, Satat Plant, Bio Fertilizer, Biogas PSA, etc. So, what are you waiting for, contact now..
Contact Info
Address

Biofics Private Limited 2, Patel Nagar, Navagam, Udhna, Navrangpura, Surat - 394210, Gujarat, India