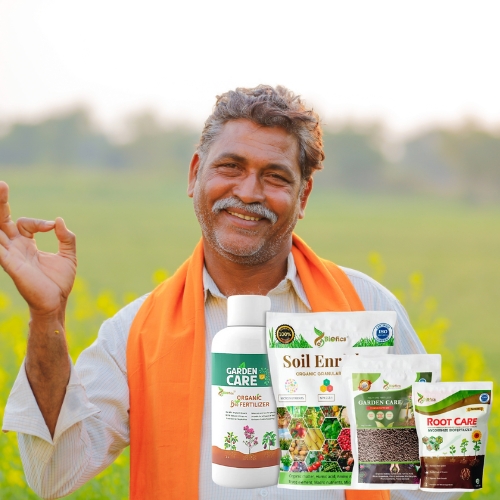 Bio Fertilizer Manufacturers
Biofics Pvt. Ltd.
The natural choice for plant growth with Biofics Pvt. Ltd. Bio Fertilizer Manufacturers in Surat. Our Bio Fertilizer is a type of fertilizer that contains living microorganisms such as bacteria, fungi, and algae that are beneficial for plant growth. We have included all necessary and important types of microorganisms in our bio fertilisers. The microorganisms in our bio-fertilizers colonize the plant's root system and help the plant to absorb nutrients from the soil more efficiently. This results in improved plant growth, increased yield, and better-quality crops.
Get the best from your land with Bio Fertilizer in Gujarat. The use of our bio-fertilizers has several advantages over traditional company chemical fertilizers.

One of the main advantages that come along with our bio fertilisers is that they are natural and environmentally friendly.
Other chemical fertilizers are known to have negative impacts on soil health, water quality, and the environment.
Our biofertilizers, on the other hand, are made from organic materials and do not contain harmful chemicals that can harm the environment.
Grow your crops with our organic Bio Fertilizer Exporters and Suppliers in India. Using bio-fertilizers is that they help to promote soil health. The microorganisms in biofertilizers help to improve soil structure, increase soil fertility, and reduce soil erosion. This is particularly important in areas where soil degradation is a problem. So make sure to consider us for all your agriculture-related needs.

Our Products
We are known Biogas Plant Manufacturers in Surat offering a quality range of Kitchen Waste Biogas Plant, OWC Machine, Composting Machine, Bio CNG Plant, Satat Plant, Bio Fertilizer, Biogas PSA, etc. So, what are you waiting for, contact now..
Contact Info
Address

Biofics Private Limited 2, Patel Nagar, Navagam, Udhna, Navrangpura, Surat - 394210, Gujarat, India