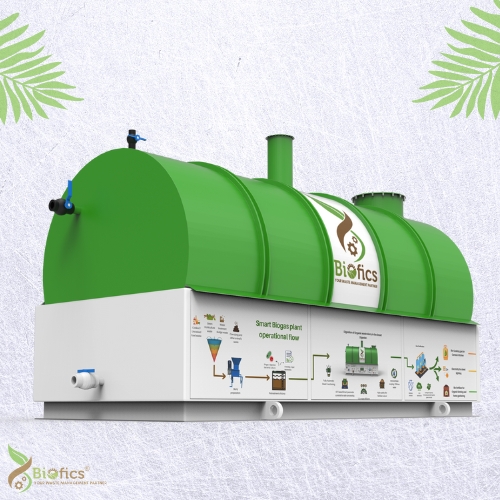 Biogas Plant Manufacturers
Biofics Pvt. Ltd.
Transform your waste into wealth with Biofics Pvt. Ltd. Biogas Plant Manufacturers in Surat. Our organic waste biogas plant is a facility that uses organic waste to produce biogas, a renewable energy source. The input capacity is- 50 kg - 2 tons per day. Talking about Biogas is produced through a process called anaerobic digestion, in which microorganisms break down organic matter in the absence of oxygen, producing a mixture of gases, which are primarily methane and carbon dioxide.
Join the green revolution with our Biogas Plant in Gujarat. The organic waste that is used in biogas plants can come from a variety of sources, including agricultural waste, food waste, and wastewater. Hence if you are looking for waste management services then our company provides these services also. Our biogas plant is designed to provide a seamless and hassle-free experience with its plug and play type system. It offers a feed and forget type operation, allowing users to simply input the feedstock and let the plant take care of the rest. The plant also boasts modularity, with the provision to increase its capacity as per the user's requirements. Also, our biogas plant ensures a pleasant environment with zero odour and zero mosquito features, making it a clean and convenient solution for sustainable energy generation.
Make your waste work for you with our Biogas Plant Exporters and Suppliers in India. The biogas produced in the digester can be used as a renewable energy source for a variety of applications, such as generating electricity, heating buildings, or powering vehicles. If you do not want much of a hassle and want to install the best and the most affordable Biogas plant then consider us as your primary option. You will get a range of items in the packages such as -Smart Digester, Waste crusher, Biogas Purification unit, Gas piping 200 mtrs, Biogas stove, Biogas Storage balloon, Gen-set, Fertiliser unit with 1 year warranty and AMC.

Our Products
We are known Biogas Plant Manufacturers in Surat offering a quality range of Kitchen Waste Biogas Plant, OWC Machine, Composting Machine, Bio CNG Plant, Satat Plant, Bio Fertilizer, Biogas PSA, etc. So, what are you waiting for, contact now..
Contact Info
Address

Biofics Private Limited 2, Patel Nagar, Navagam, Udhna, Navrangpura, Surat - 394210, Gujarat, India