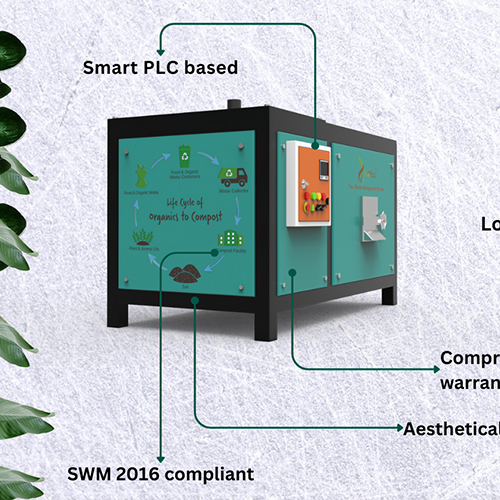 Composting Machine Manufacturers
Biofics Pvt. Ltd.
Create rich compost with our Composting Machine Manufacturers in Surat. We have designed our composting machine to create a controlled environment that accelerates the composting process, allowing organic waste to decompose more quickly and efficiently than traditional composting methods. Our advanced OWC machines also makes the composting process more feasible and very optimal.
Boost your garden's growth with our Composting Machine in Gujarat. Let us understand why people prefer our Products over others.
The primary use of our composting machine is to reduce the amount of organic waste that is sent to landfills. Organic waste, such as food scraps, yard waste, and paper, accounts for a significant amount of waste at your place.
The quality of our Product is what you will be amazed at after getting to your place. It is constructed with SS-304 internal body and MS powder coating / SS-304 outer body.
The power outpu is very less around- 10-35 units.
Delivery will be on time. We also deliver it very carefully so that there is no scratch or damage to the Product.
The capability is a massive 50 kg - 10 tons per day.
Healthy soil, and healthy crops with our Composting Machine Exporters and Suppliers in India. The composting process breaks down organic waste into soil amendments that can improve soil health, retain moisture, and reduce the need for synthetic fertilizers. Our composting machines are special and versatile as these can be used in a variety of settings, including homes, businesses, and community gardens, to produce high-quality compost for gardening and landscaping. If you are having issues with generating compost

Our Products
We are known Biogas Plant Manufacturers in Surat offering a quality range of Kitchen Waste Biogas Plant, OWC Machine, Composting Machine, Bio CNG Plant, Satat Plant, Bio Fertilizer, Biogas PSA, etc. So, what are you waiting for, contact now..
Contact Info
Address

Biofics Private Limited 2, Patel Nagar, Navagam, Udhna, Navrangpura, Surat - 394210, Gujarat, India