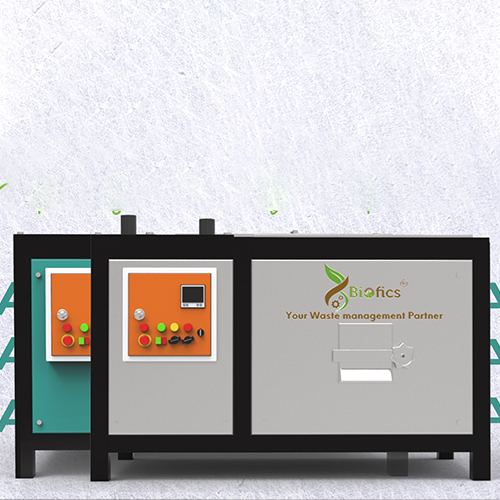 OWC Machine Manufacturers
Biofics Pvt. Ltd.
Effortlessly turn waste into energy with Biofics Pvt. Ltd. OWC Machine Manufacturers in Surat. OWC machines, also known as Organic Waste Converters, are a type of machine that converts organic waste into nutrient-rich compost. These machines use a process called aerobic digestion, which involves breaking down organic waste in the presence of oxygen, with the help of microorganisms, to produce compost.
Say goodbye to waste, and hello to savings with OWC Machine in Gujarat. Our OWC machines offer different advantages and discounts.
Our OWC machine helps to reduce the amount of organic waste that goes to landfills, thereby reducing the associated environmental and health hazards. This not only helps to reduce pollution but also conserves valuable landfill space.
The compost produced by OWC machines is a valuable organic fertilizer that can be used in agriculture, landscaping, and gardening, promoting soil health and crop Productivity.
This can reduce the need for synthetic fertilizers, which can be costly and environmentally harmful.
Our OWC machines can help to reduce greenhouse gas emissions by avoiding the release of methane, a potent greenhouse gas that is produced when organic waste decomposes in landfills.
Transform waste management with OWC Machine Exporters and Suppliers in India. Our OWC machines come in various sizes and capacities, from small-scale machines suitable for households to large-scale machines suitable for commercial and industrial applications. We have articulated the design that is easy to use, requires minimal maintenance, and can process a wide variety of organic waste, including food waste, garden waste, and agricultural waste.

Our Products
We are known Biogas Plant Manufacturers in Surat offering a quality range of Kitchen Waste Biogas Plant, OWC Machine, Composting Machine, Bio CNG Plant, Satat Plant, Bio Fertilizer, Biogas PSA, etc. So, what are you waiting for, contact now..
Contact Info
Address

Biofics Private Limited 2, Patel Nagar, Navagam, Udhna, Navrangpura, Surat - 394210, Gujarat, India