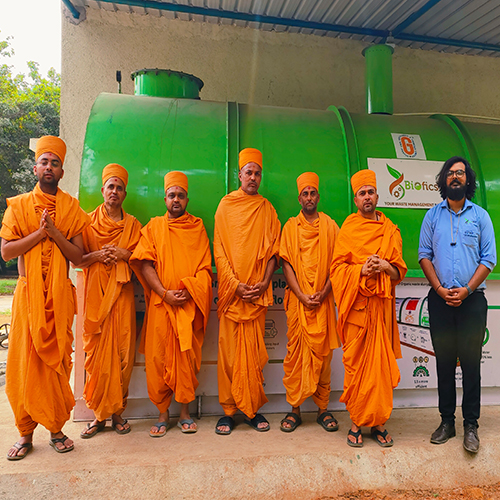 Kitchen Waste Biogas Plant Manufacturers
Biofics Pvt. Ltd.
Maximize your resources with Biofics Pvt. Ltd. best Kitchen Waste Biogas Plant Manufacturers in Surat. Kitchen biogas plants, also known as small-scale biogas plants or household biogas plants, are compact anaerobic digestion systems designed for use in individual homes or small communities. These plants that we make are typically installed in kitchens or backyards and use organic waste from food scraps to produce biogas, which can be used for cooking, lighting, and heating.
Take control of your waste with Kitchen Waste Biogas Plant in Gujarat. Our Kitchen biogas plants offer several benefits.

Particularly in developing countries like India where access to clean cooking fuel is limited and not accessible to everybody.
Our plants provide a reliable source of renewable energy, which reduces the need for traditional fossil fuels and the associated health and environmental impacts of their use.
The use of biogas as a cooking fuel is also cleaner and more efficient than traditional solid fuels, such as firewood or charcoal, which can produce harmful emissions when burned.
Reduce your carbon footprint with Kitchen Waste Biogas Plant Exporters and Suppliers in India. Although there are other methods as well to keep the waste away and produce more and more energy however if you require something efficient and easy to use the technique to save and conserve energy through waste while continuing household chores then this might be the best option for you.

Our Products
We are known Biogas Plant Manufacturers in Surat offering a quality range of Kitchen Waste Biogas Plant, OWC Machine, Composting Machine, Bio CNG Plant, Satat Plant, Bio Fertilizer, Biogas PSA, etc. So, what are you waiting for, contact now..
Contact Info
Address

Biofics Private Limited 2, Patel Nagar, Navagam, Udhna, Navrangpura, Surat - 394210, Gujarat, India