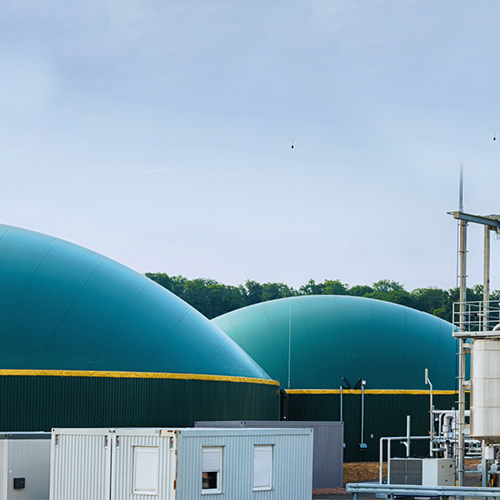 Bio CNG Plant Manufacturers
Biofics Pvt. Ltd.
Green energy, green planet with Biofics Pvt. Ltd. Bio CNG Plant Manufacturers in Surat. Our Bio CNG Plant provides an alternative source of fuel that is environmentally friendly and sustainable. The plants that we craft with materials like GFS, RC. By converting organic waste into CNG, these businesses can reduce their carbon footprint and operating costs while also promoting sustainable practices. This also gives access to companies a newer way to get access to CNG and harvest appropriately. We are associated with various government schemes as well such as- SATAT, Gobarshan, KVIC.
Cut costs and reduce emissions with Bio CNG Plant in Gujarat. Using our Bio CNG Plant is that it helps to reduce greenhouse gas emissions. Organic waste that is not properly managed in landfills releases methane gas, a potent greenhouse gas that contributes to climate change. By converting organic waste with minimal input required- 5 TPD - 500 TPD and with our other equipments such as SATAT Plan into CNG, our Bio CNG Plant helps to capture methane gas and use it as a fuel source, reducing the amount of methane released into the atmosphere. Choosing our Product would definitely result in amazing results.
Save money and the environment with Bio CNG Plant Exporters and Suppliers in India. It produces a high-quality epitome fuel that can be used for a variety of applications which adds up to a lot of cost savings if you see it from an enterprise point of view. CNG is a clean-burning fuel that produces fewer emissions than traditional fossil fuels, making it an attractive option for businesses and organizations that are committed to sustainability.

Our Products
We are known Biogas Plant Manufacturers in Surat offering a quality range of Kitchen Waste Biogas Plant, OWC Machine, Composting Machine, Bio CNG Plant, Satat Plant, Bio Fertilizer, Biogas PSA, etc. So, what are you waiting for, contact now..
Contact Info
Address

Biofics Private Limited 2, Patel Nagar, Navagam, Udhna, Navrangpura, Surat - 394210, Gujarat, India