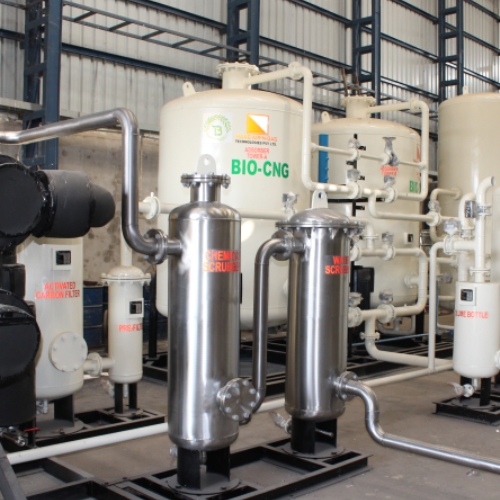 Biogas PSA Manufacturers
Biofics Pvt. Ltd.
Experience uninterrupted energy supply with Biofics Pvt. Ltd. Biogas PSA Manufacturers in Surat. Biogas PSA (Pressure Swing Adsorption) is a technology used to purify biogas, a type of gas produced by the decomposition of organic matter. The process involves the use of adsorbent materials such as activated carbon or zeolite to remove impurities such as carbon dioxide, water vapour, and hydrogen sulfide from the biogas, resulting in a clean and high-quality gas that can be used for various applications such as electricity generation, heating, and cooking.
Unleash the power of our Biogas PSA in Gujarat for a brighter future Our company's Biogas PSA can help you in your agriculture journey by providing you with a reliable and efficient biogas purification system that can help you to reduce your energy costs, improve your energy efficiency, and promote sustainable agriculture practices. By investing in a Biogas PSA system, you can turn your organic waste into a valuable source of energy and reduce your dependence on fossil fuels.
A smarter way to energy with Biogas PSA Exporters and Suppliers in India. We will work with you to design and install a customized system that meets your specific needs and requirements. Our company will provide you with a range of options and technologies to choose from and help you to select the best system for your farm or agricultural operation. Don't worry that is not it. We will also provide you with ongoing maintenance and support to ensure that your system continues to operate at peak efficiency and performance. For us, your agriculture journey is much more important than anything else.

Our Products
We are known Biogas Plant Manufacturers in Surat offering a quality range of Kitchen Waste Biogas Plant, OWC Machine, Composting Machine, Bio CNG Plant, Satat Plant, Bio Fertilizer, Biogas PSA, etc. So, what are you waiting for, contact now..
Contact Info
Address

Biofics Private Limited 2, Patel Nagar, Navagam, Udhna, Navrangpura, Surat - 394210, Gujarat, India